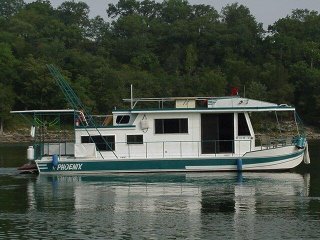 Houseboat Winter -- Signs of Life
As usual on winter weekends, Roxanne and I have the dock to ourselves. We sit at the table in our houseboat, looking through the water-streaked window at the dark lake and foggy, gray shoreline. The cold rain promises to become sleet. It is a good day to be inside, looking out.

With the heater cranked up, we are cozy as kittens in the cabin of the Phoenix. Everywhere is the homey aroma of our nearly finished Sunday brunch – eggs, pan-fried sausage, and toasty waffles. I reach to the fridge and scavenge a small jar of peach preserves to baste onto the last hot, buttered waffle. I hope I will not have to arm-wrestle Roxanne for it.

Twisting the lid, the pop of releasing vacuum reminds me how this souvenir-sized jar of peach jam happened to be aboard in the first place – a boat gift from friends. I spread the preserves generously on my waffle, then voice my appreciation, "Thanks, Brenda. Thanks, Phil. Good of you to bring this. It's perfect for today."

I wash the waffle down with cold milk, as icy rain washes down the bleak landscape outside our window. Snug with the warmth of our heater, and smug with the lingering taste of peachy waffle in my mouth, I consider the little jar of preserves.

Interesting. Here we are alone on the boat, a dreary winter's day, a million miles from summer, no friends around – and suddenly Brenda and Phil pop aboard to say "Hi." How could I believe there are no friends nearby? Just look around. Anywhere. Everywhere.

Under the wine rack are some coasters that read, "Ted's Bar," brought to the boat by Steve. From a hook hangs his battery-powered bug shocker in the shape of a tennis racket. This sinister device has zapped more than one curious non-believer right out of his chair during self-inflicted "testing" (to my unrestrained amusement).

I let my mind's eye wander over the Phoenix.

Near the helm is Jim's weather radio, which has kept us safely in the dock, protected from storms, more times than we can count. Under the cabinet, Tommy's intrepid coffeepot, one tin soldier that has done selfless yeoman's duty for so many wounded troops, on so many mornings after.

In our bedroom, a scented candle in a gilded, ruby glass that never fails to bring a golden flicker to sparkling bedroom eyes. A gift from Suzi and Max.

On my back this very moment, a Cardinals T-shirt, one of my favorites, which appeared mysteriously on the boat, owner unknown. I discovered two years later that it was Kit's before it was mine. She never asked for its return.

On the deck above, an expansive sunshade still containing the sweat of my son-in-law, Ben, who supervised the installation. On the stern, a bright nautical flag, flown in a thousand summer breezes since Marlene and Raymond hung it there. On the dive platform, Nick's hammock, which can rock a sleeper gently or awaken one rudely, depending on the size and speed of passing boats.

On the counter, a pair of wrap-around sunglasses given to me by Gary just because I'd mentioned I liked them. In the drawer, a deck of Brian's playing cards, with which I have ungraciously conceded a ransom in nickels, dimes and quarters to better poker players.

On the wine rack, a bottle of Scotty's award-winning homemade wine, ready for the next time we make lasagna or spaghetti in our little galley. By the window, a silly cane with honker and coin purse and mirror, given to me as a joke on my 50th birthday by Norm and Carol. On the wall, a colorful photo of the Phoenix itself, floating serenely on sparkling water under a blue fall sky – a wide-angle moment in relaxed autumn time, expertly captured by Norm, now occupying a place of central focus in our cozy cabin.

There is more, much more. I look around and see it all, and realize how wrong I had been. No friends around? Nonsense. This boat is alive with our friends. This boat radiates the warmth of great companionship. This boat floats on a tide of living memories.

Of all the things that make the Phoenix what she is, nothing compares to the improvements our friends have made over the years. The useful items they brought. The trivial mementos they left behind. The laughs that will forever echo. The memories that will always remain. These are our love of the Phoenix, and the season doesn't matter.

Thanks for joining us, friends, all those good times in fair weather. Thanks for reminding us, on a cold Sunday morning in deepest winter. Thanks for being there then, and now, and always.